Hi, Birders,
Many of you have birded Big Morongo Preserve and the surrounding areas and may be interested in this email from Kevin. Quite a lot of damage to the boardwalk and property and tons of clean up. There is a link if you feel like donating.
Also, Clark Dry Lake in Anza Borrego State Park is no longer dry. Our State Park Ranger daughter spotted what she thought were avocets from a distance. She took a picture of the lake, pretty impressive a few days ago, maybe still is.
Best,
Sally Sanderson
—– Forwarded Message —–
From: Kevin Wong – Big Morongo Canyon Preserve <bmcp@bigmorongo.org>
To: John and Sally
Sent: Saturday, August 26, 2023 at 03:04:25 PM PDT
Subject: An Update On The Work That We Have Done Since Hilary's Arrival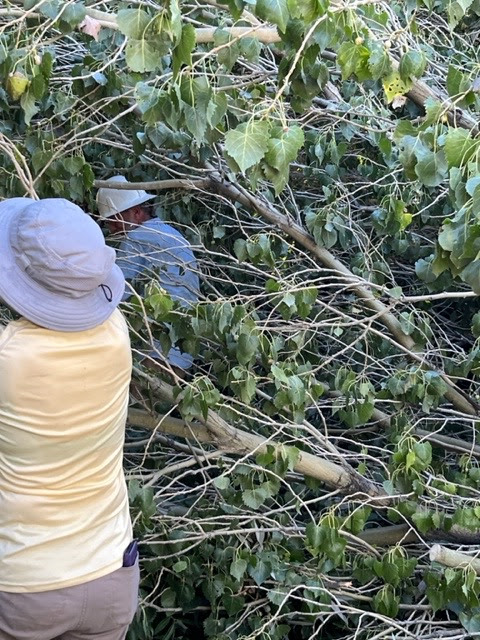 Volunteers "bushwacking" through walls of green to review the damage from the storm.
Good afternoon John and Sally,
As you know, tropical storm Hilary pounded Southern California as the "storm of the century".  Beginning on Saturday, August 18, we decided to close the Preserve until the storm passed.
On Sunday, over 5" of rain fell on the Preserve causing massive flooding and subsequent mud flows that inundated the driveway, Marsh and Mesquite Trails.  In many areas, 6-8" of mud covered the boardwalk.  In other areas, the sections of the boardwalk have disappeared downstream.  A bridge on the Mesquite Trail was displaced over 6 feet making the trail impassable.  The driveway had many deep gullies and ravines due to the water runoff from SR 62.  Here is a link to a file full of images.  On Monday, SR 62 was closed due to massive mudflows at East Drive, which is the road to the Preserve.  It took a day for Caltrans to remove the mud.  On Tuesday, we entered the Preserve and a small, dedicated work crew began to "bushwack" through the 17+ fallen trees that blocked the boardwalks to ascertain the damage.  And, they shoveled mud from the kiosk area and from inside the ambassador booth.  It was a mess.
On Wednesday and Thursday, the trails crew returned to continue to remove the branches off of the main trunks of the trees that fell and they proceeded to work on Desert Willow Trail.  On Friday, a crew from California Conservation Corps arrived to begin to cut down large broken overhead branches, suspended in the tree canopy.  They called them "widow makers".  Then the CCC crew proceeded to cut up the large trunks that laid across the boardwalk.  This team was supplied by Jihadda Govan, Manager, Sand to Snow National Monument.  Jihadda made a site visit on Friday and Beahta Davis, Director, Regional Parks of San Bernardino County made a site visit today.  We reviewed the damage and we will be making joint decisions on how we will rebuild the infrastructure that was lost.  We got a lot of work done in just a few days.  And, as you can see in the photos, there is a lot of work ahead of us. Thank you to all of our dedicated volunteers!
Now, how can you help us?  Until we can make the preserve "safe" for public work crews, we will hold off on any large work events.  As a lover of Big Morongo Canyon Preserve, you can make financial contributions to the recovery effort.  Friends of Big Morongo Canyon Preserve is a small 501(c)(3) nonprofit organization that is supported primarily by donations. We need your help to restore your Preserve.   Please give what you can afford by pressing the "Help Now" button.
We look forward to seeing you once we reopen the Preserve.  Stand by for more information.
Kevin
Kevin Wong, Executive Director, Friends of Big Morongo Canyon Preserve
760-792-1843
Here is a short video of the California Conservation Corps cutting down a "widow maker" on the Marsh Trail.   And, this is why we use trained foresters to work with us.

A bear made its appearance at the Preserve on Thursday.  Click here for the video.  Because of the presence of the bear, we have removed the bird feeders at the Education Center.
Friends of Big Morongo Canyon Preserve, the 501(c)(3) non-profit organization that manages the preserve  along with our partners, Regional Parks of San Bernardino County and Bureau of Land Management, is recruiting additional board members to help steer the Friends group into new and exciting directions