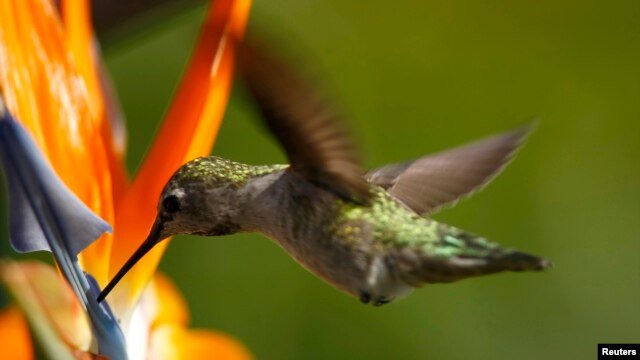 FILE – An Anna's Hummingbird (Calypte anna) feeds on a Bird of Paradise plant along a canyon in Encinitas, California, Sept. 12, 2007
WASHINGTON — For such small creatures, hummingbirds certainly have racked up an outsized list of unique claims to fame.
They are the smallest birds and the smallest warm-blooded animals on Earth. They have the fastest heart and the fastest metabolism of any vertebrate. They are the only birds that can fly backward. And scientists reported on Thursday that they also have a complicated evolutionary history.
Researchers constructed the family tree of these nectar-eating birds using genetic information from most of the world's 338 hummingbird species and their closest relatives. They said hummingbirds can be divided into nine groups, with differences in size, habitat, feeding strategy and body shape.
The common ancestor to all species in existence today lived about 22 million years ago in South America, several million years after hummingbirds were known to be flourishing in Europe, they said. Today's hummingbirds are found only in the Americas.
They boast a unique set of capabilities, said University of New Mexico ornithologist Christopher Witt, one of the scientists in the study published in the journal Current Biology.
"They can hover stationarily or move in any direction with precision, even in a strong wind. They also have the highest rate of energy consumption per gram of any animal," Witt said.
"They have sparkling colors that are breathtaking when seen under perfect lighting conditions. This combination of speed, agility and beauty is unmatched in nature," Witt added.
Hummingbirds come in a spectacular range of colors, with males more colorful than females. They often have green feathers on the body, with the head coming in "virtually every color you can imagine: gold, red, blue, purple, magenta, often iridescent," said biologist Jimmy McGuire of the University of California, Berkeley, who led the study.
Their name derives from the humming sound produced by the rapid flapping of their wings. The largest hummingbirds flap about 15 times per second, while the smallest approach 80 times per second, Witt said.
Hummingbirds consume mostly flower nectar, and have long, slender bills and lengthy, specialized tongues to collect this sweet treat. But because the nectar is almost devoid of protein, they also eat small insects.
'Operating on the Extremes'
"They have to constantly feed because they're powering this system that has such great energy requirements. Many of these hummingbirds go into torpor [dormancy] at night so that they don't starve to death overnight, which is pretty cool. They're just operating on the extremes," McGuire said.
While hummingbirds now live only in the New World – North America, Central America, South America and the Caribbean – their oldest fossils were unearthed in Europe. That indicates hummingbirds once enjoyed a much larger range and disappeared in the Old World for unknown reasons, the researchers said.
The discovery of fossils in Germany of the oldest known hummingbirds – 30 million years old – was announced in 2004.
"The fossil record for hummingbirds, and other small birds, is so poor that we really don't know when European hummingbirds disappeared. It could have been 30 million years ago, or it could have been a few thousand years ago," Witt said.
The hummingbird evolutionary lineage split from a related group of small birds called swifts and treeswifts about 42 million years ago – most likely in Europe or Asia – and by 22 million years ago the ancestral species of modern hummingbirds was in South America, the researchers said.
Hummingbirds found their way to South America probably after crossing a land bridge that once connected Siberia to Alaska, the researchers said. Once in South America, they expanded into new ecological niches and evolved new species, then spread back to North America about 12 million years ago and into the Caribbean about five million years ago, the researchers said.
The biggest threat to hummingbirds is loss of habitat thanks to human activities. If people were not around, they "would just continue on their merry way evolving new species," McGuire said.
The smallest species today, and the smallest bird in existence, is the bee hummingbird of Cuba, which measures about two inches long (five cm) and weighs 1.6 to 1.9 grams. The largest is the giant hummingbird of South America, which measures about eight inches (20 cm) and weighs about 20 grams.