Cornell Lab eNews
May 2014
Our Inside Birding videos help you with practical tips on how to recognize species like this Hairy Woodpecker.
Our Free 4-Part Video Series Reveals Fun Bird ID Secrets
The fields are bursting with song and the woods are teeming with feathery creatures—or you might say feathery question marks. Our four-part Inside Birding video series will walk you through the four basic keys to identifying any bird: Size & Shape, Color Pattern, Behavior, and Habitat. The videos take you out in the field with Chris Wood and Jessie Barry, two members of Team Sapsucker (see above) for clear, fun, one-on-one instruction. Watch the Size & Shape video now.
More Steps to Easier Bird ID
Which Species Is This?
Not all little brown birds are hard to categorize. For instance, you may be able to narrow this one down to just a few choices using Size & Shape (see above). To get it down to species, you'll want to consider things like its colors, face pattern, spotting, and migration timing. Fortunately, we have a whole article that helps you do just that. Do you know what species this is? Check your guess and get more help with our ID article about this tricky group.
House Sparrows by Madhusudan Katti.
Not Just Sparrows and Pigeons: Cities Harbor 20 Percent of World's Bird Species
Rock Pigeons, House Sparrows, and European Starlings are widely known as "city birds," and with good reason. These three species (plus Barn Swallow) occur in more than 80 percent of cities, according to a recent study. But there's way more to cities than this narrow cast of avian urbanites—a whopping 2,041 species live in the world's cities. So take heart: your next city stroll has much more to offer than just a few ubiquitous species. Read more about the surprising diversity to be found in cities.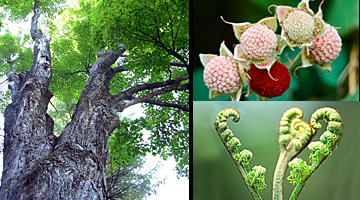 Gardening This Spring? Try Our YardMap Local Resources Tool
Location, location, location. The best advice for bird-friendly yards changes drastically as you move across the country. Fortunately, there are lots of local experts—and our YardMap project can connect you to everything you need. Just enter your zip code and we'll tell you your ecoregion and plant hardiness zone, give you a guide to pollinator plants, a list of nearby birds seen in the last month, nurseries that stock native plants, where the closest community gardens are, and more. Data can be a wonderful thing—try the YardMap local resources tool now, and consider joining thousands of others contributing habitat maps to this citizen-science project.
Growing Hawks, Hatching Barn Owlets, and One Big Albatross Chick: Check in with our Bird Cams project for intimate views of growing chicks and their parents.In Darwin's Footsteps: When Living Bird editor Tim Gallagher visited the Falkland Islands, he brought his camera and his copy of Voyage of the Beagle, and he filed this report.

Take the May eBird Challenge: If you can manage to enter at least 100 complete checklists into eBird this month, you could win a pair of Conquest HD binoculars from Zeiss.

To Know the Crow, a talk by Kevin McGowan and Anne Clark about their 26 years of crow research, was our most popular Monday Night Seminar ever—and you can watch it online.

Free Seminar Live Online: We'll be livestreaming a talk by researchers Katy Payne and Ann Warde about the music of humpback whales. Bookmark this link and join us May 19 at 7:30 p.m. Eastern time.

Elephants on National Public Radio: Researcher Andrea Turkalo is a collaborator with our Elephant Listening Projectwho has studied forest elephants for 24 years. NPR tells her remarkable story today and tomorrow on Morning Edition.

Take a Road Trip: Our Upcoming Bird Festivals and Eventswebpage makes it easy to plan your next birding destination. You can look through listings by calendar or on a map, so you can start planning your road trip right from the page.
Happy International
Migratory Bird Day!
Around the world, birds are involved in one of the most extreme athletic events in the natural world—migration. To celebrate, there'sInternational Migratory Bird Day. It's often held the second Saturday in May—but dates vary as much as the migration schedules of birds themselves. Visit the site for a map of planned activities, migration artwork, and ideas for your own celebration. 
Attention Educators: Check Out These Resources
Your Class Could Win Binoculars From Celestron.
 Use citizen-science projects to get your students interested in nature, and your class could win up to 20 binoculars from our sponsor 
Celestron
. Just submit your activities to our Action Map (see below) to be considered. 
Get the full details
.
Tell Us Your Stories. Our BirdSleuth Action Map is a great place to tell us what your students have been up to, give them a sense of accomplishment, and pick up ideas and inspiration from other educators.Check out the map.
Soar Through the Standards 
is a 5-part webinar series that combines bird biology with Next Generation Science Standards. Participants who take all five have the option to earn a professional development credit. We'll be offering all five in two convenient summer sessions on
July 17 and August 21
. 
Get the details
.
Happy Teacher Appreciation Week!We're grateful for all the teachers who make a lasting influence on so many lives. We especially thank educators who foster a love of nature and birds in young people. Find more inspiration and resources at ourBirdSleuth Facebook page.