Cornell Lab eNews
March 2015
The Mystery of Beautiful Males—Explained
We love birds because of their outrageous beauty—but why is it the males that so often look fabulous? It's an age-old question, now explored in depth at All About Bird Biology. With colorful quizzes and rare footage, you'll get to know males that use feathers, songs, dance moves, and even design skills to woo mates. Discover the upper limits of extravagance—and the reasons for it—with All About Fancy Males.
The Fanciest Bird in North America? In a series of fascinating videos, explore the inner workings of a sage-grouse lek in Wyoming, with a Cornell Lab biologist as your guide and narrator. Click the image to get acquainted with male and female sage-grouse, then go to All About Fancy Males for the rest of the story.
What's Really Going On at Your Feeder?
That flurry of activity at a busy feeder is always a cheerful sight—but life as a chickadee or titmouse is full of hidden rules. Feeder birds operate in complex hierarchies, and you can piece together what's going on by paying attention to a few telltale behaviors. Check out our blog for a primer on feeder intrigue, illustrated with beautiful slow-motion video.
Do you know the name of these two fuzzy, long-legged young birds? Photographed in March 2014, in Florida, by
Michael Libbe
via
Birdshare
.
Which Species Is This?
Nothing says spring quite like the sight of a couple of golden, fuzzy young birds. These aren't spring chickens—so what are they? Even in this state of toddler-hood, these young birds still display some identification giveaways in their size and shape. The adults are known for forming huge flocks and filling the air with a gorgeous, rolling call. Do you know which species this is? Check your guess and learn more.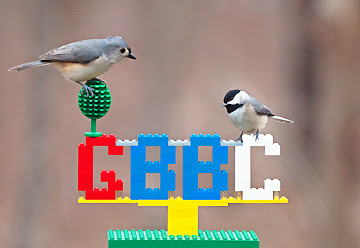 A Lego tribute to the Great Backyard Bird Count gets a couple of real-life visitors in this photo from Gary Mueller in MIssouri.
Great Backyard Bird Count Breaks Records—and Not Just for the Cold Weather
Thanks to everyone who took part in the 18th annual Great Backyard Bird Count on February 13-16. People sent in more than 147,000 checklists from more than 100 countries. In all, you reported a record 5,090 species, equal to nearly half of all bird species in the world. In many parts of North America the cold, windy, snowy weather made birding challenging, but participants saw enough Snowy Owls to suggest an "echo flight" had occurred.
Sightings ranged from winter visitors like Pine Siskins in North America; to an enormous flock of Bramblings in Europe; to reports elsewhere in the world of two birds that aren't even officially described as species yet—an owl and a tapaculo.Read the full roundup and see how your region did.
Four Nuthatches, Four Ways to Make It Through a Cold Winter
Of all the regulars at your bird feeder in winter, nuthatches are the ones that are just a tad quirky. They're upside down at least as often as they're right side up, and they earn their names by "hatching" large seeds and nuts with sharp whacks of their needle-straight bills.
Depending on where you live, you may have one, two, or three species visiting you. Though they're all broadly similar, each species has its own tricks for making it through a winter outdoors. Learn how they do it.
Birders and Hunters Make Good Conservationists: New study finds that both groups are more likely than the public at large to support conservation.
Secrets of Odd Ducks and Communal Crows: Get an inside look with our affordable webinars. Identifying unusual waterfowl (1 hour) will be offered March 26 and 27. The Secret Life of the American Crow (basic and advanced) are available as archived 90-minute videos.
March Migration Madness, our annual alternative to basketball, celebrates the Lab's centennial with a lineup of 16 special birds. Vote for your favorites on Facebook.
Enter the March eBird Challenge by going looking for waterfowl—you could win a pair of Zeiss binoculars! Full details.
U.S. Biologists Look to Conservation Partnerships in Cuba: National Public Radio story features cool Cuban bird sounds from the Cornell Lab.
Take a Road Trip: Our Upcoming Bird Festivals and Eventswebpage makes it easy to plan your next birding destination. You can look through listings by calendar or on a map, so you can start planning your road trip right from the page.
Attention Educators: Check Out These Resources
Teach Class Outdoors:
whether you're a seasoned outdoor educator or new to taking groups outside,
these 8 tips can help you
feel comfortable, organized, and prepared.
Get Ready for Good Weather: check out our Spring Specials, with great offers on an investigator's kit, Nature Detectives activity, and Discover Birds package—with special pricing through March. Get the full details.