The female owl incubates three eggs in the WBU Barred Owl nest.
Who's On Cam For You?
Deep in the suburban wilds of central Indiana, the Wild Birds Unlimited Barred Owls have returned for a third year on cam. Nestled beneath the down feathers of the female owl are three white eggs, due to be incubated for 4-5 weeks before hatching. For the last two years, the owls have had great success raising their young, fledging five owlets from five eggs. During the day you can listen to the sounds of spring arrive to the forests, while at night watch as a steady stream of interesting prey items are delivered to the nest box by the male owl. Watch along as the owlets transform from close-eyed, downy fluffballs to fierce, sometimes clumsy youngsters before setting out to explore the world. Watch cam.
Big Red settles in on the likely nest for 2016 near Weill Hall.
Everything Old Is New Again
Big Red and Ezra have been at it again, spending time at two nest sites; fotunately, we already have cams installed at both locations. Over the last two weeks it has become apparent that the site nearest Weill Hall (used during 2013-14) is the most likely site, and each hawk has been provisioning the nest with twigs, greenery, and bark. Ezra has exchanged prey in the nest bowl with Big Red several times, and we expect the arrival of the first egg sometime in the next 10 days. Stay tuned for the fifth cam season for Big Red and Ezra! Watch cam.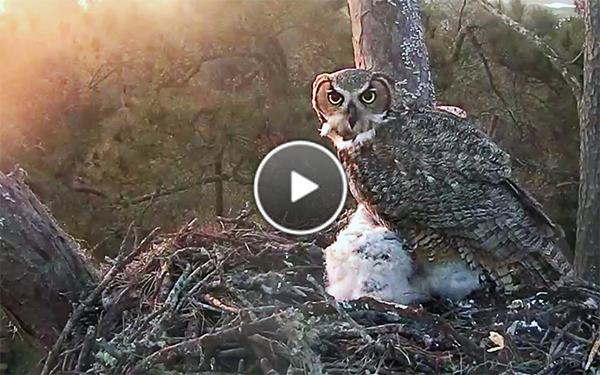 The female owl does her best to shelter the growing owlets.
Gimme Shelter
The two owlets at the Savannah Great Horned Owl cam have grown immense over the last two weeks, nearly outgrowing the female's ability to shelter them from the wind and rain. A steady diet of rodents, birds, and even snakes has kept squabbles to a minimum, and over the next week the owlets will be left uncovered for longer periods of time as they begin to thermoregulate more efficiently. Don't miss the excitement as they begin exploring the nest for themselves—watch cam.