Young Albatrosses Practice Their Courtship Moves on Camera
On a recent afternoon on Kauai, Hawaii, our Laysan Albatross cam caught an amazing moment of natural history when three young-adult albatrosses visited the month-old chick (named Kaloakulua). The young birds are between about 3 and 7 years old. They have no nests of their own and are just starting to learn their elaborate courtship dance—and this afternoon they decided to practice on camera. It's a bewildering, sometimes ear-splitting set of head-bobbing, bill-clacking, whinnying, moaning, preening, and nuzzling. Watch this remarkable highlight clip.
Heads-Up for Hawks! Fans of Big Red and Ezra should keep a lookout on our Red-tailed Hawk cam this month, as the two birds have been visiting last year's nest site regularly (see sidebar). Last year they laid their first egg March 14—they could lay this year's first egg any day.
Crested Berrypecker, a species of high-elevation forests in New Guinea, by
Tim Laman
.
Two New Studies Find Birds Shifting Ranges Due to Warming Temperatures
As the planet warms, scientists are striving to learn how the changes—gradual by human standards, abrupt in evolutionary terms—are affecting the complex interrelationships of nature. Birds are very mobile animals, and they're some of the first to show changes. Two Cornell Lab studies—one on the familiar Carolina and Black-capped Chickadees, the other an arduous expedition to remote New Guinea—found similar results: species are moving their ranges farther north and higher up mountains as the average temperature climbs. Read 
the chickadee story
and 
the New Guinea story
.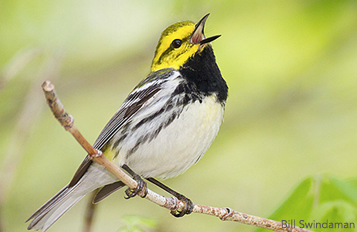 Learn Bird Sounds With These Smartphone Apps
As we inch toward spring and the return of dawn choruses, it's a good time to brush up on bird calls. But with more than a dozen iPhone apps out there, which one will make bird sounds easiest to learn? We put the apps through their paces and we've got some recommendations for you, including stats, tips, plus suggestions for Android users and folks without smartphones. Read our full review.
More Ways to Improve Your Birding:
Attention Educators: Check Out These Resources
Save on New Curriculum Kit:
Our BirdSleuth program creates curriculum kits that use birds and inquiry in the outdoors to meet national science standards. They're a great way to make sure kids are active and interested. Our newest kit, Habitat Connections, is now 20 percent off in our store. 
Get the details
.
How a Bird Sings With Its Wings:Discover the Club-winged Manakin, a bird that makes a remarkable, high-pitched hum in one of the strangest ways imaginable. Dr. Kim Bostwick discovered the secret over the course of many years, using experiments and high-speed video, and her website tells the story in fascinating detail and great video.
The Ordinary Extraordinary Junco is a series of free, short videos and teacher resources produced by scientists at Indiana University. They've studied the birds for decades, and their excellent videos cover myriad science-standards-related topics.
Thank You for a Record-Breaking GBBC: Roughly 142,000 people counted 17.7 million birds in 135 countries in just 4 days—a new record for participation! See full stats in our full Great Backyard Bird Count wrap-up.

Birding on the Silver Screen: A cast of young actors join Sir Ben Kingsley in search of a possibly extinct bird in 
target="_blank">A Birder's Guide to Everything. It opens in select theaters March 21 and is viewable on demand starting today.

Kudos for Citizen Science: A paper about the citizen-science approach of eBird has been selected as Grab a fresh cup and watch as our director of conservation science, Amanda Rodewald, explains why Bird Friendly coffee is one of the best ways to link your daily routine with songbird conservation.

Watch Our Seminar Live Online: Our next livestreamed seminar will feature the authors of the groundbreaking newWarbler Guide (read our review). Bookmark this page and join us at 7:30 Eastern time on March 17.

Take a Road Trip: Our Upcoming Bird Festivals webpage makes it easy to plan your next birding destination. You can look through listings by calendar or on a map, so you can start planning your road trip right from the page.